Volume 14, No 2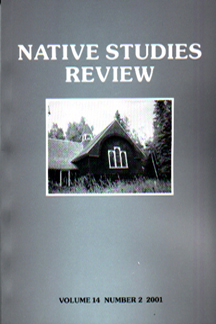 Articles
Thom, Brian. "Aboriginal Rights and Title in Canada after Delgamuukw: Part Two, Anthropological Perspectives on Rights, Tests, Infringement & Justification" 14(2), pp. 1-42.
Belanger, Yale D. "Northern Disconnect: Information Communications Technology needs assessment for Aboriginal communities in Manitoba" 14(2), pp. 43-69.
Swidrovich, Cheryl. "Stanley Mission: Becoming Anglican But Remaining Cree" 14(2), pp. 71-107.
Commentary
Lavallée, Father Guy, OMI, MA. "Aging and Spirituality Canada's Aboriginal People at a Crossroad" 14(2), pp. 109-117
Photo Essay
Fallat, Tara and Moore, Agnes Mayo. "Agnes Mayo Moore Oral History Project River Trip 2000" 14(2), pp. 119-136.
Book Reviews
Binnema, Theodore; Ens, Gerhard J.; and Macleod, R.C. (Eds.). From Rupert's Land to Canada: Essays in Honour of John E. Foster. 14(2), pp. 137-138; review by D.N. Sprague.

Cairns, Alan C.; Courtney, John C.; MacKinnon, Peter; Michelmann, Hans J.; and Smith, David E. (Eds.). Citizenship, Diversity, and Pluralism: Canadian and Comparative Perspectives.14(2), pp. 138-140; review by Alex R. McLean.

Castellano, Marlene Brant; Davis, Lynne; and Lahache, Louise (Eds.). Aboriginal Education: Fulfilling the Promise. 14(2), pp. 140-142; review by Jean-Paul Restoule.

Fiske, Jo-Anne and Patrick, Betty. Cis Dideen Kat, When the Plumes Rise: The Way of the Lake Babine Nation. 14(2), pp. 142-146; review by Brian Thom.

Fossett, Renée. In Order To Live Untroubled: Inuit of the Central Arctic, 1550 to 1940. 14(2), pp. 146-149; review by Robert MacDonald.

Laliberte, Ron F. et al (Eds.). Expressions In Canadian Native Studies. 14(2), pp. 149-151; review by Joseph (Jay) H. Stauss.

Pickering, Kathleen Ann. Lakota Culture, World Economy. 14(2), pp. 151-154; review by Robert L. Bee.

Proulx, Jocelyn and Perrault, Sharon (Eds.). No Place for Violence: Canadian Aboriginal Alternatives. 14(2), pp. 155-157; review by Lynne Davis.

Rosier, Paul C. Rebirth of the Blackfeet Nation, 1912-1954. 14(2), pp. 157-162; review by Alexandra New Holy.

© Copyright Native Studies Department, University of Saskatchewan. All rights reserved.