Volume 21, No 1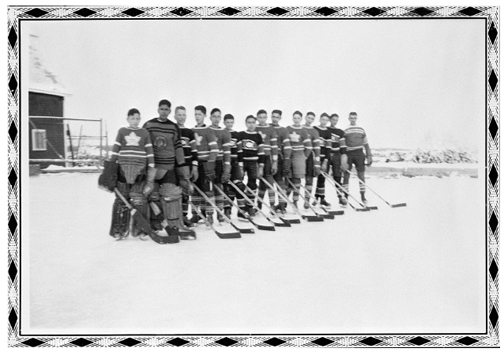 Articles
Paul Hackett, "'That Will Not Be Done Again': The Fort Alexander Preventorium and the Fight against Tuberculosis in Indian Residential Schools, '1937–39", 21(1) pp. 1-42.
Johnathan W. L. Rose, "Without Reservation: The Chatham-Kent Community Network & Caldwell First Nation Land Dispute", 21(1) pp. 43-60.
Maura Hanrahan, "A Story of Invisibility: The Reaction of the Print Media to the Formation of Qalipu Mi'kmaq First Nation", 21(1) pp. 61-82.
Sam Pack, "Keeping Up with the Begays: Observations of Competitive Consump¬tion in Contemporary Navajo Society", 21(1) pp.83-102
Katharine McGowan '"A Question of Caste and Colour': The Displacement of James Bay Native Soldiers' Wives During the First World War, Soldiers' Family Support, and the Maintenance of Pre-War Canadian Society", 21(1) pp.103-124
Natasha Caverley, "The Guardians of Mother Earth: A Qualitative study of Aboriginal Knowledge Keepers and Their Views on Climate Change Adaptation in the South Selkirks Region", 21(1) pp. 125-150
Book Reviews

Anna Marie Prentiss and Ian Kuijt. People of the Middle Fraser Canyon: An Archaeological History. 21(1) pp. 151- 152, review by Stanley A. Copp.
Mark Cronlund Anderson and Carmen L. Robertson. Seeing Red: A His¬tory of Natives in Canadian Newspapers. 21(1) pp. 153-154, review by Brendan F.R. Edwards
Helen Agger. Following Nimishoomis: The Trout Lake History of Dedi¬baayaanimanook Sarah Keesick Olsen. 21(1) pp.155-157, review by Lynn Gehl
Antonia Mills, ed. "Hang onto these words": Johnny David's Del¬gamuukw Evidence. 21(1) pp. 157-159, review by Douglas Hudson.
Keith Thor Carlson. The Power of Place, The Problem of Time: Aboriginal Identity and Historical Consciousness in the Cauldron of Colonialism, 21(1) pp.160-161, review by Christine Elsey.
© Copyright Native Studies Department, University of Saskatchewan. All rights reserved.